Individual Accountability & Conduct (IAC)-Singapore
Our multi "award winning" RegTech solution, Accord, the only purpose-built SMCR solution has now been configured to meet the requirements of the Individual Accountability & Conduct Regime (IAC) that was introduced into the Singapore jurisdiction in September 2021.
It has been developed to manage the Governance, Accountability and Fitness & Probity requirements as defined by the Monetary Authority of Singapore (MAS).
Focused on supporting the five accountability and conduct outcomes that Financial Institutions (FIs) should achieve, Accord – Singapore will allow Senior Managers to focus on the outcomes expected by MAS whilst allowing Accord to deliver the day-to-day operational requirements of firms and individuals
From the Award Winning team that developed the UK's – Accord
The Individual Accountability & Conduct Regime from MAS seeks to ensure that FIs focus on achieving two key outcomes. These revolve around 2 key components, namely ethical business practices and robust risk management.
Through the introduction of five Accountability and Conduct Outcomes, MAS are looking to ensure that there are effective governance arrangements in place within regulated firms together with competent and capable employees whose conduct is of the highest order.
What that means for FIs is that they must have clear systems and controls in place to meet the relevant MAS guidance. That is where Worksmart come in, with our respected SMCR solution.  Accord – Singapore helps organisations to implement and evidence individual accountability at Senior Manager level together with managing the wider topic of employee Fitness and Probity.
Clear central record keeping, promoting strong corporate governanceand clear accountability, plus evidencing Fitness & Probity, that is what Accord – Singapore will bring your organisaton. And for firms that want to integrate IAR with a wider set of established people management processes, Accord Singapore has the in-built functionality that can extend beyond Fitness and Probity into a single view of employee conduct and competence.
Download our FREE Individual Accountability & Conduct Factsheet
For more information about our award winning solution, and how we can help you manage the component parts of the Individual Accountability & Conduct Regime (and much, much more!), please download our free fact sheet and take the first step towards making the management and oversight of your regime easier than you could imagine.
With a multitude of leading financial services companies using Worksmart's IAC solution, you can be confident of meeting the demands of the incoming regulation whilst gaining real business advantage.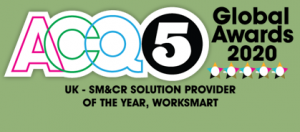 Complaint Management
(Lloyd's Market)
Complaint Management
(General Market)