Our multiple "award winning" RegTech solution, Accord, is the only purpose-built SMCR solution on offer that has been built by practitioners in conjunction with Trade Body support.
Developed to manage all the governance and competence requirements demanded by the Senior Managers & Certification Regime (SMCR) in the UK and the Individual Accountability & Conduct Regime in Singapore (IAC) and capable of managing the proposed SEAR regime in Ireland once finalised.
'It's neat and very clever' – UK Regulator
The Senior Managers and Certification Regime ensures that Senior Managers are individually accountable for their business decisions, conduct and the competence of those that they manage. Consumers will be secure in the integrity this brings as SM & CR (SMCR) means that every regulated entity must have a well-documented trail of responsibility, communication and control.
What that means for financial service firms is that they must have clear systems and controls in place to meet the relevant PRA / FCA regulations. That's where Worksmart come in… with our respected SMCR solution, Accord. Accord helps organisations to implement professional competence and conduct in line with SMCR regulation.
Clear central record keeping, strong corporate governance, clear accountability and evidence of employee Fitness & Propriety. This is what Accord will give your organisation, working seamlessly with any existing systems you may have and fully able to reflect your organisational culture and routines. In terms of accountability, you can ascertain, who, when, what and how, with everything mapped and time stamped for the regulator.
From governance pathways, to responsibility statements, recording breaches and managing multiple entities your business will be able to demonstrate the enhanced processes and your commitment to putting customers at the heart of your business.
And for firms with more complex needs, for example those that want to integrate SMCR management into a wider set of established business or people processes, Accord has the functionality that can extend beyond the requirements of the regulation to provide a single, wider view of employee conduct and competence.
Download our FREE SM&CR Factsheet
For more information about our award winning solution, and how we can help you manage the component parts of the SM&CR Regime (and much, much more!), please download our free fact sheet and take the first step towards making the management and oversight of your regime easier than you could imagine.
With a multitude of leading financial services companies using Worksmart's SM&CR (SMCR) solution, you can be confident of meeting the demands of the incoming regulation whilst gaining real business advantage.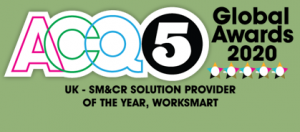 Complaint Management
(Lloyd's Market)
Complaint Management
(General Market)