On Tuesday 19th May, 2020, Marian Bloodworth (HR Lawyer, Kemp Little) and Julie Pardy, Emma Howell and Nic Dent (Worksmart) hosted a SM&CR virtual breakfast. The webinar was eagerly attended by 50 delegates where we discussed the current challenges for firms, whilst sharing our own experiences from multiple SM&CR implementation.
To ensure that the topics covered are educational and relevant we often ask attendees to complete polling questions during the webinar. On this occasion we asked the delegates two key questions and wanted to share with you our findings.
The two questions were:
Do you think the current crisis will increase the risk of firms falling foul of SM&CR?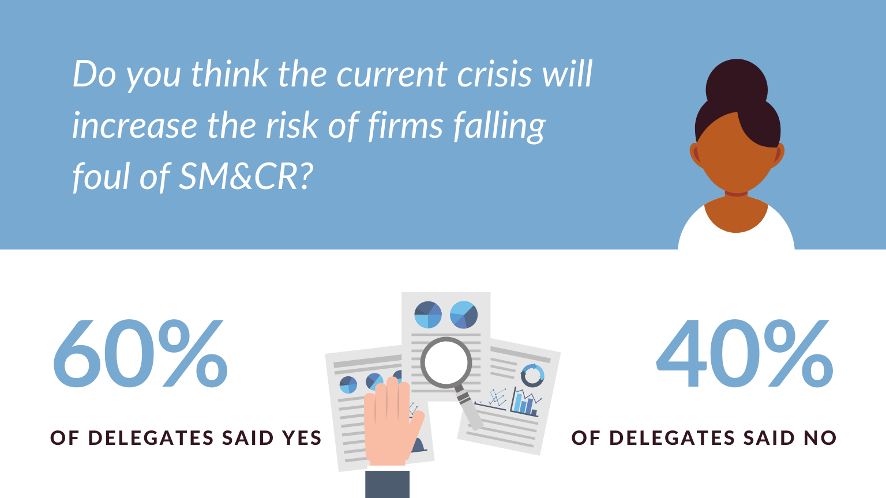 None of us want firms falling foul of SM&CR so we have worked hard to understand firms' concerns and share our suggested responses.
We believe these are the reasons for the increased risk:
The government's furlough scheme has increased the number of changes, particularly in the Senior Manager community. And, because of the number of changes, governance decisions are needing to be made more quickly.
Lockdown has transformed the UK's workforce into remote workers. Therefore, not only are there more governance decisions to be made, they are being made by teams operating remotely.
Organisation culture is created by the 'tone from the top' and is at its strongest when leaders are visible, Whilst being visible is not solely dependent on being face to face, leaders do need to work harder to set this tone in a world of remote working.
2) What regulatory requirements are you prioritising now?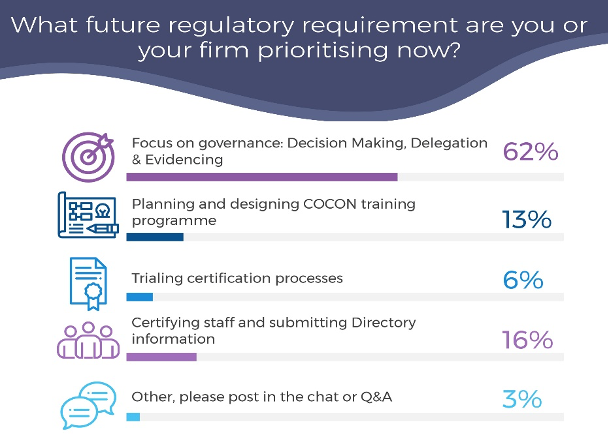 When asked about regulatory priorities, interestingly, the majority of attendees were of similar minds in seeing the evidencing of Reasonable Steps as their priority.
When senior managers make decisions, the SM&CR rules encompass the need to demonstrate Reasonable Steps. However, when looking at this in the context of Covid-19, things become more challenging. Working at a faster pace, with limited staff available due to sickness and absence due to the virus, senior managers' ability to record their decisions and supporting rationale may be impacted.
Given the current time pressures, the need for a simple and intuitive way of quickly documenting Reasonable Steps and evidencing / managing delegation is more critical than ever. Our customers are telling us that the Reasonable Steps functionality within Accord, our award-winning SM&CR software, is helping them document their actions in these 'time-pressured' times.
 If you would like to find out more about Accord and how it can help your senior managers stay compliant, visit our website.
Email us at info@worksmart.co.uk or call our friendly team on: 01908 613613