What can you and your firm do now?
This blog seeks to continue to help you plan your project for the implementation of the Senior Managers and Certification Regime within your organisation.
Often, people say to us that they don't feel that they need to take any action now as the regime doesn't start for a while and then there is another year from the start date to complete lots of other tasks. However, if you ask the Banking community, what would they would do differently, if they had to do this again? They would say they would take action far earlier.
Now, it would have been difficult for the Banking Community to do this as they had some quite short timelines from when the regulatory change was announced to achieving the deadlines for commencement. That said, there are some things (as in the slide below) that you can do now that will most definitely make your life easier as you get closer to your first regulatory deadline.
HR Tasks – these can be considered in the early stages of your project
This particular regulatory initiative is people focused regulation and, as a result, there may be a need for you to review and update your job descriptions. You will have Senior Managers that have very specific, defined Regulatory responsibilities and you may choose to reflect these within their job description.
You may also want to consider reviewing the job descriptions for your Certified staff. For those Certified roles, going forward, there will be a number of requirements that align to them. As a result of that you may want to alter the way you describe those job role functions within your organisation. It is good to start thinking about this now, rather than latterly within a project.
You are also likely to have discussions with individuals around a perceived level of increased responsibility and accountability. What our Banking clientele have told us is that many staff who have found themselves in a Certified role have felt that it should be a reason for them to get either a Grade increase or a pay rise. Again, we don't advocate either, it is just worth noting that it is better to have those conversations sooner rather than later.
There may be Employment Law implications that may arise as a result of this regime so we suggest that you review your Contracts of Employment. Our Banking clients have told us that, as a result of implementing the regime within their organisations, they have had to review their Contracts of Employment because they suddenly have a very wide population of individuals who are now subject to regulatory consideration around Conduct Rule breaches. This is, therefore, a key area for HR to consider.
Senior Managers Regime
As part of your project you are going to have to look at the structure of your business. You will also have to look at your lines of responsibility, who is accountable for what and corporate governance around who does what, where and when and how that is recorded and managed. There is a lot of work here where organisations have had to look at the complete design of their structure, especially if a business is a regulated entity that is part of a group where there may be an exchange of personnel and/or services.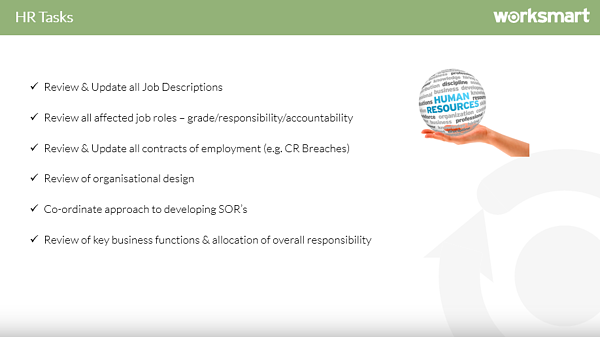 All in all, there is a lot to do from the HR perspective.
Coming soon…our next Blog in the series, 'SM&CR – Implementation Tasks Part 2 – Training Tasks'.
——————————————————————————————————————
Download the Free Worksmart Information Sheet:
5 Great Strategies for Successfully Implementing SM&CR in your Organisation