This blog seeks to help you plan your project for the implementation of the Senior Managers and Certification Regime.
The Worksmart Team have a great amount of experience in implementing SM&CR in the Banking world. We've been working with banks since before the regime came into being around Summer 2015 and so we have more than 3 years' experience of implementing and working with firms affected by this.
What we are looking to achieve through our Blogs is to share some of that information: questions you might need to ask yourself, things that you might need to do, tasks you might want to align to certain people within your project teams.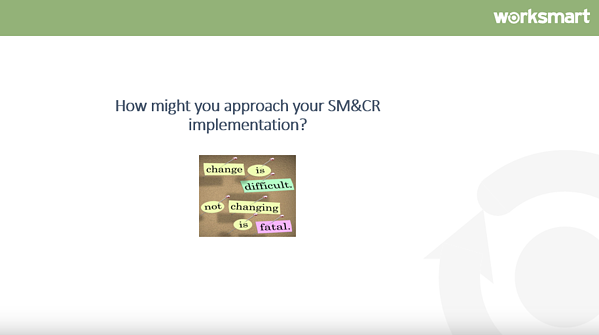 Firstly, there are some key things you need right at the beginning of your project namely – an Executive Sponsor!
Key things we think you need
The Senior Managers Regime is all about leading from the top. Where we have seen SM&CR projects stumble and potentially fall by the wayside is where the Project Sponsor is not Senior enough to make things happen within the business so choose your Sponsor carefully.
The second thing is, without a shadow of doubt – you need a budget. The regulator did some research when they were submitting the consultation papers for Solo Regulated Firms and their estimate said that the one-off cost of implementing SM&CR for more complex firms was expected to be in the region of half a million pounds. In our experience, for the bigger banks it was much greater than that. Funding will be a necessity because you will probably need external legal advice, external support for the large volume of training needed and, (when you come to realise the complexity of the Regime) a system solution will most probably be required. All these factors mean that you will definitely need funding in place.
Finally, as in the above cartoon depicting a joke about business analysts, this is quite a technical project. Within your Project Team you will need people that are capable of drilling down to the fine details and making sure no stone is left un-turned when looking at all of the component parts of this regime and how it will be applied to your business going forward.
Click below to read the next Blog in the sequence: 'SM&CR Project Tasks & Useful Tips Part Two – Areas of Focus'
———————————————————————————————————
Download the Free Worksmart Information Sheet:
5 Great Strategies for Successfully Implementing SM&CR in your Organisation